GM HD Trackbar Bracket on Axle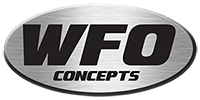 We offer two different versions of the Duramax/HD axle trackbar bracket for the 2000-2010 GM/Duramax using the '05+ Super Duty Axle. You need to choose the proper one for your application.

Two for the Ford Super Duty 05+ Axle.

One for the 6" lift
One for the 9" lift



The brackets are CNC cut out of 1/4" P&O then formed and welded to offer the best fit on the axle tube.
The joint width is 1.38" and the bolt hole on the bracket is 3/4". On our trackbars, we run an FK heim joint at the axle that is a 7/8" shank x 3/4" hole and has misalignment spacers built into it.
This bracket requires you to weld it to the axle. Click on the PDF below for instructions on how to weld the trackbar bracket on the Ford Super Duty '05+ axle.

MADE IN THE USA!