Jeep JL Tailgate Ice Chest Rack With License Plate Mount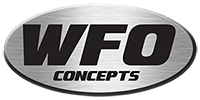 Do you need more storage space in your Jeep JL? The WFO Concepts Jeep JL Tailgate Ice Chest Rack may be just what you need. This innovative rack is specifically engineered to replace your spare tire mount, providing you with ample space to store your belongings. Coupled with our matching Aluminum License Place Mount, it's a winning combination!
Both the Ice Chest Rack and License Plate Mount are designed and fabricated from 1/8" 5052 Aluminum plate. The rack is built to withstand the toughest of conditions, ensuring that your items remain secure and always protected. With its sleek and stylish design, the WFO Concepts Jeep JL Tailgate Ice Chest Rack is the perfect addition for any Jeep JL owner looking to maximize their storage space. Inside dimensions of the rack are 15-3/4" deep by 30-1/2" Wide. The Yeti 65 quart ice chest fits the best. To make life easier when you grab your favorite bottled soft drink out of the ice chest, two corners of the rack were designed to do double duty and also function as bottle openers!
Designed in tandem with our ice chest rack, the Aluminum License Plate Mount fits perfectly within the mounts of the ice chest rack. The license plate mount retains the factory back up camera so you can still back up with ease. Weighing in at only 2 pounds, our license plate mount is extremely light weight! The mount comes with all hardware, wiring, and instructions.
For added safety and to comply with DOT requirements when driving on public roads, we offer an optional license plate illumination light and third brake light kit for our license plate mount.
MADE IN THE USA!