88-98 Chevy/GMC Front Frame Plate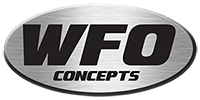 This frame plate kit is a must have when doing a straight axle swap on your 88-98 Chevy truck. We offer two different versions of these frame plates. The first one will fit the 1/2 ton frames and the second version will fit both the 3/4 and 1 ton frames.
The frame plates are made out of 3/16" plate. The outer plates are bent to match the existing bends in the Chevy frame and to strengthen the steering box mount. The top plates are integrated into the side plate so it boxes the top of the frame off.
Sold as a pair.
MADE IN THE USA!