2.5" Leaf Spring Perch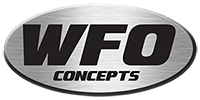 This weld-on leaf spring perch is CNC laser cut and formed from 1/4" mild steel. It has 3 center pin holes so you can move your axle 1" forward or 1" back without moving your leaf springs. It is 6" long.
It is cut to fit a 3.125" diameter axle tube. However, it works fine on axle tubes from 3" to 3.375".
These perches fit 2.5" wide leaf springs.
Sold individually or by the pair.
Remember, if you want to move your axle, you will need to use one of our WFO leaf spring plates as well.
MADE IN THE USA!