Flat Pitman Arm, NO HOLE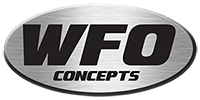 This flat pitman arm with NO HOLE allows you, the builder, to put the drag link hole at the optimal position to maximize steering radius. The hole for the sector shaft is completely splined eliminating any clocking issues (you still have to put it on correctly!) and will fit the standard saginaw box. It has 36 splines.
The arm measures 7.5" from the center of the sector shaft hole to the end of the arm and 4 5/8" from the center of the sector shaft hole to the beginning of the flat portion where you would drill the hole. This means it can be reamed anywhere from 5" to 6.75" from the center of the sector shaft hole.
You can choose to have us ream the pitman arm out to your specific measurements. Be certain of your measurements because there are no returns on custom applications. Email us your specifications to sales@wfoconcepts.com You will need to give us:
- Center to Center Measurement
- Orientation. Meaning:
Do you want GM Draglink Taper or Tie Rod Taper

Bottom Up (most popular) or Top Down

Or, if its a heim joint application, what size bolt hole do you need




Please call us if you have any questions.
If you want to use this on a Duramax, Low Lift Height, Straight Axle Swap you will also need to modify the length of the pitman for clearance issues. Give us a call and we can walk you through it or, we sell it already modified in our Straight Axle Swap section for the DMAX low lift height.