1310 Tall, U-Bolt Style, 29 Spline Yoke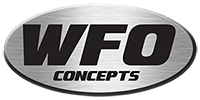 1310 Tall, U-Bolt Style Yoke, 29 Spline
This yoke fits just about every Dana 60 and 70 axle from 1970 to the present! Remember, this is the smallest of the three u-joint sizes offered. However, it is still very strong. We have seen customers break alloy front axles with this yoke and u-joint size! Every Chevy Dana 60 front axle came stock with the 1310 u-bolt style yoke. This yoke is a "u-bolt" style, rather than the strap styles that you find on later model vehicles.
The yoke fits 1310 u-joints (3.2188" wide, 1.0625" cap diameter). This yoke is .250" taller than a factory Dana yoke. This will allow you to get a little more angle out of your driveline.

If you purchase the yoke in kit form, it will also come with the u-bolts.
Remember, always use red Loctite when installing pinion nuts!

This yoke does NOT fit any transfer cases!