1967-72 GMC/Chevy Shackle Flip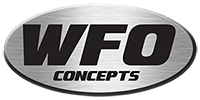 Rear Shackle Flip Kit for 67-72 Chevy 1/2 Ton and 3/4 Tons
With the 5" shackles, this kit should produce around 5.5" of lift. With the 6" shackles, it should produce around 6" of lift. Simply grind your rivets out and bolt the new hangers on.
The shackle hangers are made out of 1/4" P&O Plate then welded together. The shackle plates are 3/8" thick then zinc coated to help fight off corrosion.

Description
Kit includes:
(2) Shackle hangers (bare steel)
(12) 7/16" grade 8 bolts, washers and nylocks to attach the hanger to the frame of the truck
(2) sets of shackles, you choose
(2) sets of bushings and inner sleeves
(4) 9/16" x 5" Grade 8 shackle bolts, washers and nylocks (not pictured)

MADE IN THE USA!
Caution: By installing this shackle flip kit, your pinion angle will drastically turn up towards the transfer case. If you do not go with a CV rear driveline, you may need to shim your pinion back down.