YJ Large Bushing Kit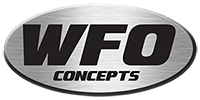 This bushing and sleeve kit is designed for the do-it-yourself home builder.
The kit comes with one, YJ large outer weld-on bushing sleeve, two YJ large bushings, and your choice of 1/2" or 9/16" inner bushing sleeves. Remember, most Jeep leaf springs use 9/16" bolts on the spring hanger end, and 1/2" bolts on the shackle end. If you are using this for a rear torque arm, we suggest going with the larger 9/16" bolts.
The overall width is 3"
Kit Includes:
(1) WFO 4250 outer sleeve
(2) DAY MO2153 1.5" bushings
(1) Zinced Inner bushing sleeve (your choice between WFO 4260 or WFO 4261)
MADE IN THE USA!
Be sure to remove bushings from sleeve before welding them. The bushings will melt!