Reid, Ford 44 Knuckles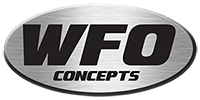 Price Range: $334.00 - $669.00


Ford never made a factory 1/2 ton, Dana 44, flat top knuckle. However, from 1975 to 1979 all 3/4 ton Ford 44 front axles had flat top knuckles with 5 bolt spindles. If you try to use the 3/4 ton knuckles with half ton brakes and outers, it won't fit. Due to the lack of steering options for the 1/2 tons, Reid Racing built these replacement knuckles that will fit both the 1/2 ton and 3/4 ton Ford 44's. These knuckle are "Made in the USA" and are cast thicker and stronger than factory knuckles. The top is cast flat and milled, drilled, and tapped for 4 hole steering arms. (3 hole steering arms will still work fine.) The new knuckles also have dual steering stops.
The factory Ford 1/2 ton 44 knuckle was cast with a few different tie-rod tapers and tie-rod location. Due to this we suggest buying these knuckles in pairs to ensure that the right and left sides match properly.
Note: These knuckles will only fit Ford Dana 44 front axles with 5 bolt spindles! They will not fit axles with 6 bolt spindles such as the early Bronco Dana 44 and 30 axles.