Inside Frame Link Mount, 3/4" or 7/8" Heim, 5/8" Bolt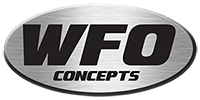 This link mount works great for the upper link mount on front or rear 4 link setups. It welds to the inside of the frame, and has a 1 3/4" wide opening for a 5/8" bolt.
We use this mount with 3/4" or 7/8" heim joints and our 3/4" to 5/8" high misalignment spacers. The mount is 1/4" material, laser cut, formed and welded together.
Available in 0, 10, and 20 degree offset from the mounting surface.