Ford Dana 44 Knuckle Kit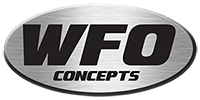 Price Range: $1266.00 - $1288.00


Ford Dana 44 Knuckle Kit with Arms
This is a Ford Dana 44 knuckle and steering arm kit. You can get this kit with 6" long steering arms or 7" long steering arms. In leaf spring applications we always suggest the 6" arms which will work great with most 5" to 6" long pitman arms. In a coil spring application we suggest using the 7" arms in order to keep your steering linkage from hitting your coils. The 7" arms work best with longer pitman arms such as the factory Jeep Wagoneer pitman arm.

Description
Kit includes:
-Pair of 5 bolt spindle, 4 hole, flat-top Ford 44 knuckles
-Pair of steering arms 6" or 7" long
-8 studs, nuts, and cones, already installed in knuckle
-2 sets of MOOG ball joints, already pressed into the knuckles and ready to go
-All new spindle studs and nuts
These knuckles will fit Ford 1/2 ton and 3/4 open knuckle, Dana 44 front axles, 1979 and older. Be sure that you have 5 bolt spindle outers! These knuckles will not fit axles with 6 bolt spindles such as the early Bronco Dana 44 and 30 axles.
Note: If you are running Coil springs, we suggest buying the kit with 7" steering arms to clear the coils!