Dana 60 Stud/Nut Kit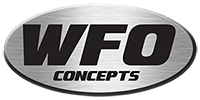 Price Range: $88.00 - $175.00


Our WFO Dana 60 kingpin steering arms are all designed to be held down with studs and tapered nuts, NOT bolts! This is how all factory steering arms were held down and this is the only way to do it! They are slightly taller than the factory studs and have 1/2 x 20 threads. The nuts are also tapered like a lug nut to help hold the arms down tight. All of our arms have a small taper milled in them in order for the tapered nuts to seat.
To install these nuts simply tighten two of the nuts against each other, back to back. You will then be able to tighten the studs into the knuckle using the upper nut to turn them. The studs should be installed with the short threads down.
NOTE: If you're buying the Dana 60 Crossover Arm, the kit comes with this item AND the cap, zerk, and gasket.