Dana 44 Crossover Steering Arm 1.5" Tall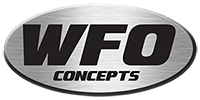 Price Range: $139.99 - $191.00


Dana 44 Crossover steering arm. This steering arm is one of the most popular Dana 44 steering arms we sell. It is CNC machined from mild steel and uses the stock studs, nuts, and cones. Even though the arm is 1.5" tall, it is still able to work with stock length studs, due to the fact the mounting holes are recessed into the arm. In fact, there is still room to use a 1/2" spacer with stock studs. When mounted, the steering arm measures 7" from the center of the ball joint to center of the hole. This works great when using our WFO 1104 pitman arm, Toyota pitman arms, or stock CJ or Wagoneer pitman arms.
This arm can be purchased with two different size tapers. Please specify the correct arm you need. Chevy tie-rod ends have a slightly smaller taper than Chevy draglink ends. Chevy tie-rod ends generally come with around 15 degrees of movement. Chevy draglink ends generally come with 30 degrees of movement. Some of the standard part numbers are listed below.
We always suggest using draglink ends on your draglink so you never have to worry about them binding up!
Tie-rod ends: ES2234R, ES2233L, EX2234R, EX2234L, ES2010L, ES2010R
Draglink ends: ES2026R, ES2027L, ES2027R
If you are doing a straight axle swap on a Chevy truck, using a Dana 44 front axle, this is the arm you want!
This arm is meant to match up with pitman arms that are around 7" long.